We are extremely proud to be a Green Business of California!
At Paws of Pleasanton Animal Hospital, we believe it is our duty to do what is best for your pet and also for the environment. We took this into consideration not only during our construction phase but also when implementing daily standards for our staff members. Here are some of the things we are doing to help decrease our ecological paw print!
We are honored to be voted Pleasanton's Best Veterinarian by the Pleasanton Weekly Reader's Choice! Where your family is our family.
We provide only the best care possible for our patients!
Check Out Our New Office!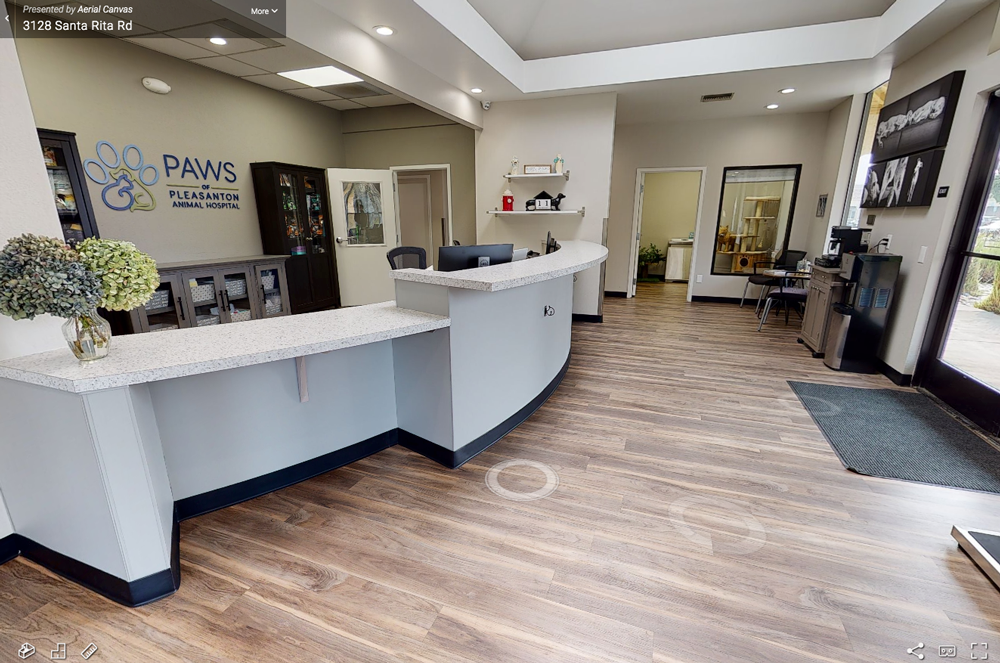 At Paws of Pleasanton Animal Hospital, we want you to be on the cutting-edge of medical care. We provide state-of-the-art technology and you'll have access to the latest information in veterinary care.
The Paws of Pleasanton Animal Hospital team will be here for you and your furry family members throughout every stage of their life. You can count on us to be there for you when you need us most!
Sustainable Care
At Paws of Pleasanton Animal Hospital, we put our patients first. Our mission is to provide environmentally sustainable care, going above and beyond for both our patients and the environment.
Download Our App!
View your pet's medical reminders, receive text reminders and confirmations for appointments, request prescription refills, request appointments and join our Paw Perks Loyalty Program. The loyalty program gives you points back for each dollar you spend that you can put towards either services for future visits or a donation for a local shelter/rescue group.

Family-owned and operated veterinary care in Pleasanton, CA
Compassionate care for your four-legged family members.
At Paws of Pleasanton Animal Hospital, we know your pets are family. We strive to treat each and every patient who walks through our doors with kindness and respect. We offer cutting-edge medical technology to keep your pets feeling their best! We're also a proud member of the Pleasanton Chamber of Commerce.

Location
3128 Santa Rita Road, Suite B
Pleasanton, CA 94566
Hours
Mon – Fri: 7:30 am – 6:00 pm
Sat – Sun: Closed
Have a question?
Complete the form below and we'll be in touch with you shortly.
Request your next appointment online!
New clients, please click here to fill out your paperwork prior to requesting an appointment. To request your appointment, click the button below.
At this time, we offer the option for either curbside or in-hospital visits with your pets as long as you are wearing a mask, have not tested positive or recently been around others who have tested positive or are feeling sick.
Your appointment time is reserved especially for you and your pet. Please try to arrive on time. If you choose to cancel with less than 12 hours notice or if you miss your appointment, we reserve the right to charge you an examination fee.
We appreciate your understanding and thank you for helping us ensure other sick pets can be seen when you're unable to make your appointment.