Dr. Amanda Bloomberg
Veterinarian, Owner
Dr. Amanda Bloomberg is a native to the Bay Area growing up in Fremont and attending Santa Clara University for her undergraduate degree. She attended veterinary school at the Purdue University School of Veterinary Medicine in West Lafayette, Indiana. While she enjoyed her time in the Midwest, after graduation she came back to the Bay to be close to her family.
Dr. Bloomberg lives in Pleasanton with her husband Francisco, two dogs (Zooey and Pepe) and two kittens (Tito "Bandito" and Vino aka "Little Vinnie"). In her spare time, she enjoys gardening, crafting and painting but above all she enjoys spending time with her family. Family is her core and foundation in life and she wants to create a hospital with the same values.
Her professional interests include feline medicine and senior care but her favorite part of being a veterinarian is being able to form relationships with her clients and their pets. She has a passion for educating clients about their pets' well-being and believes strongly in working as a team with them to formulate the best plan of action for their pets.
Dr. Bloomberg always knew she wanted to open her own hospital and she is excited she finally has the opportunity to create a family-focused, privately owned, small animal hospital with her partner and fellow Boilermaker, Dr. Melissa Hardy, in the town that she loves. She also has a passion for environmental sustainability and believes there is huge room for improvement in the veterinary field to create a hospital that strives to be as environmentally conscious as possible.
Dr. Melissa Hardy
Veterinarian, Owner
Dr. Melissa Hardy, originally from Indiana, earned her Doctorate of Veterinary Medicine from Purdue University School of Veterinary Medicine. Upon completing her degree she packed up her seven animals at the time and drove across the country to be close to her family whose careers brought them to California.
Over the past decade, California has become home to Dr. Hardy and she resides in the east bay with two boisterous French Bulldogs (Zoe and Oscar), a large lanky mixed breed canine named Otis, Jovial a 24-year-old bossy female Senegal, and Elmer, an Eclectus parrot. When not caring for her furry and feathered family, Dr. Hardy enjoys spending time with her human family BBQing, going to the farmers market, gardening, fine dining, and exploring California.
Dr. Hardy has been involved in the East Bay community by volunteering and/or working with, Fix Our Ferals, Tony La Russa's Animal Rescue Foundation, Solano Feral Cat Group, Tri-Valley Fix Our Ferals, VIP Pet Care, Vetco, and Human Society Veterinary Medical Association-RAVS. She is also an active member of the California Veterinary Medical Reserve Corps (CAVMRC) and most recently provided medical care for animals injured by the wildfires in Paradise, California.
Professionally, she takes a special interest in French Bulldogs due to her own two Frenchies and has a special fondness for geriatric patient care. She is also an avid dental care enthusiast and a strong advocate of preventative medicine. While Dr. Hardy loves practicing veterinary medicine, she always knew ownership was her ultimate dream and can't wait to meet you and your four-legged family members at Paws of Pleasanton Animal Hospital!
Dr. Kelly Sterbentz
Veterinarian, Associate
Dr. Kelly Sterbentz grew up in San Diego, California, and received her Doctor of Veterinary Medicine degree from the University of California, Davis. She chose to pursue an additional internship after veterinary school with a large focus on emergency medicine, which provided invaluable experience. This originally brought her to the Bay Area, where she has since called home!
Dr. Sterbentz credits her supportive loved ones, Yogi (the sweet mutt pictured!), and her many treasured, past family dogs for inspiring her career. She has diverse professional interests, so general practice is a good fit for her! As a special interest, Dr. Sterbentz is passionate about judicious antibiotic use, having published research on the topic in college and veterinary school. She also loves to mentor and encourage students who are interested in becoming veterinarians.
In addition to enjoying the company of people and animals at work, Dr. Sterbentz enjoys her family, friends, and the outdoors. Together, she and her husband like to visit nearby family members, go hiking and camping, drink boba tea, and dog-watch and bird-watch on their daily walks. They appreciate all the East Bay has to offer, including proximity to beautiful landscapes – mountains, coast, and more.
For Dr. Sterbentz, the focus of being a veterinarian is help and service. She finds it a special privilege to form bonds with pets and their humans in this way – a privilege she does not take lightly. This like-minded focus is exactly why Dr. Sterbentz decided to join the compassionate crew at Paws of Pleasanton. She is proud to be a part of the team! She looks forward to working with you to provide loving care for your furry family members.
Kari Dummer
Office Manager and Veterinary Technician
Kari started her career in Veterinary Medicine, in her hometown of Grand Rapids, Michigan in 1995. There she worked at a busy small animal practice which also catered to exotic pets. Additionally, she also worked with the local zoo veterinarian, seeing everything from snakes to tigers! So, she can handle the wildest of domestic pets!After moving to California in 2005, she worked for a short time in an emergency veterinary practice but decided to stay at home with her two kids, for close to 15 years. Family first! Now that her kids (Hudson and Ella) are more grown, in high school, and college, she has come back to what she loves, working with animals and their human parents.When not at Paws of Pleasanton, she loves to spend time with family and friends, travel, and watch her daughter play softball. Kari has 3 dogs and 2 cats. Additionally, she likes to spend time volunteering for the SPCA in Dublin, and NorCal Boxer Rescue (NCBR).
Jesse Funaoka
Receptionist
Jesse was born and raised in Fresno, CA and has been working in veterinary medicine since attending San Joaquin Valley College to become a veterinary technician in 2004. After passing her Registered Veterinary Technician boards in December of 2005, she took on the challenge of working as an RVT 14 years!! Transitioning in a new direction, she decided to make the move to an administrative position so that she could spend more one-on-one time with clients.
Jesse has lived in Tracy, CA with her husband, her French Bulldog (Batman), and her 4 cats (Leo, Doug, Tonks, and Eilis) since November 2019. She enjoys reading, crafting, and traveling with her husband. She would say she is more of a cat person but has a special love for Frenchies and senior dogs.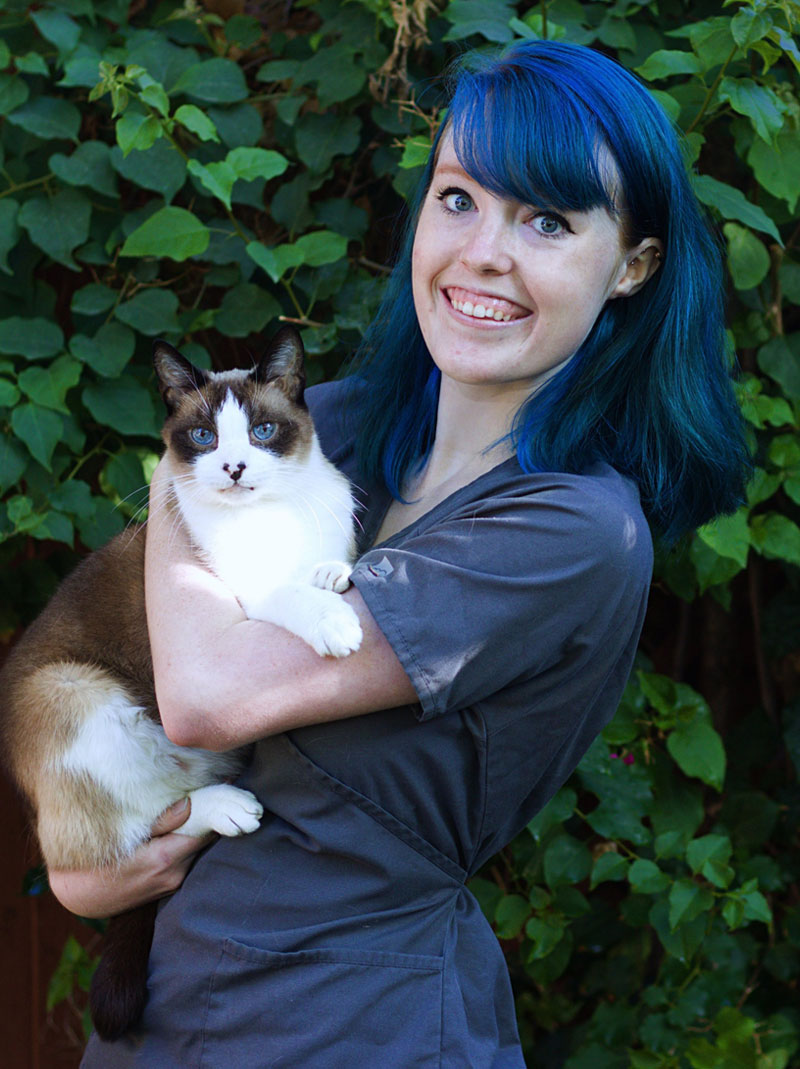 Kassidy Honas
Receptionist and Veterinary Assistant
Kassidy is a native to the bay area originally from San Ramon. She resided in Livermore for 23 years where she earned her Associate's Degree in Kinesiology at Las Positas College. Soon after, she transferred to San Jose State University where she is completing her Bachelor's Degree in Kinesiology. Today, she resides in Livermore with her partner and their spoiled cat, Bandit. In her free time Kassidy enjoys painting, gaming, and gardening.
Kassidy started her career in veterinary medicine in 2019 as a veterinary assistant for weekend vaccination clinics. During her time there, she met Dr. Hardy, and recently joined the Paws of Pleasanton family as a veterinary receptionist. Her strong customer service background is an asset and we are happy to have her join the team.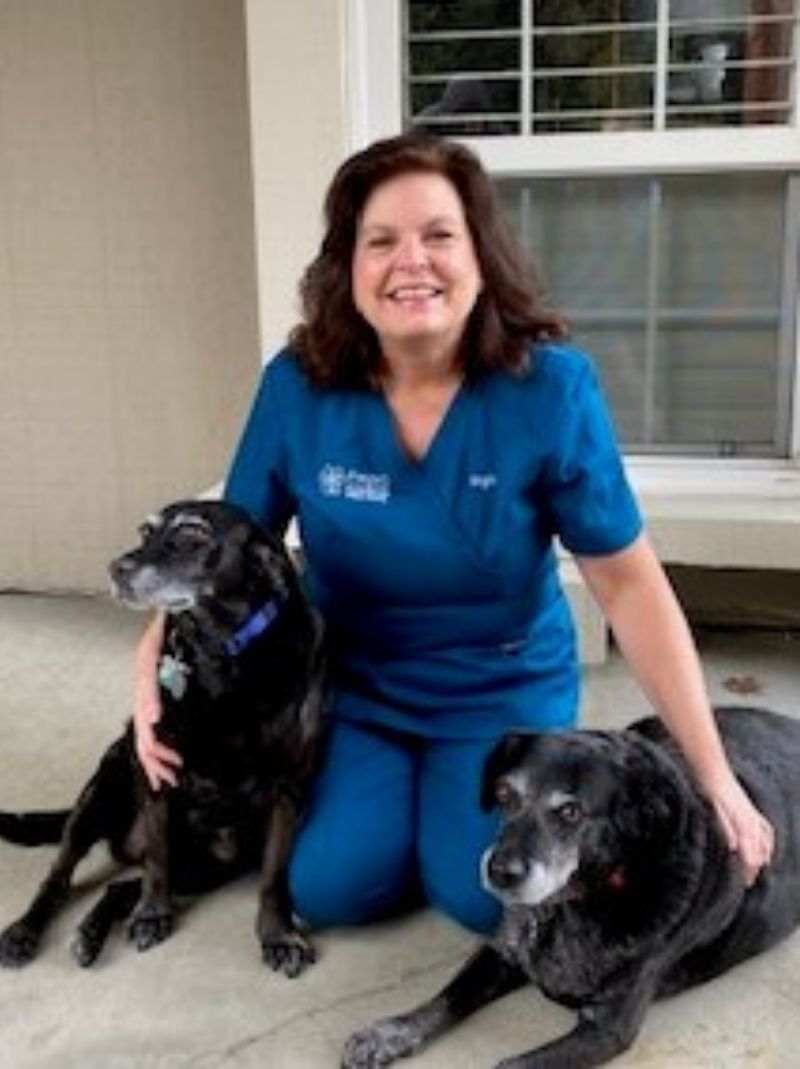 Angie Cryar
Receptionist
Angie recently joined Paws of Pleasanton after retiring from a more than 30-year career in insurance. Working at Paws of Pleasanton has fulfilled a lifelong dream to work with animals. Angie is part of our reception team and she is excited to be able to assist our clients to provide the best care for their furry family members.
Angie was born and raised in the Bay Area and resides in Danville. She and her husband Paul have two sons, Ryan and Cameron. The family also includes two 12-year-old Labrador mixes, Sunny and Shadow, and Howie, a very loud 14-year-old Cockatiel.
Angie always had pets while growing up including dogs, cats, hamsters, turtles, and even a horse. Her love of animals has continued with several rescue pets including dogs, cats, and rabbits. Angie has a special place in her heart for senior dogs and believes that senior pets deserve love, respect, and the best care possible.
When not at Paws of Pleasanton, she enjoys spending time with her family and friends, walking the dogs, cooking, and traveling.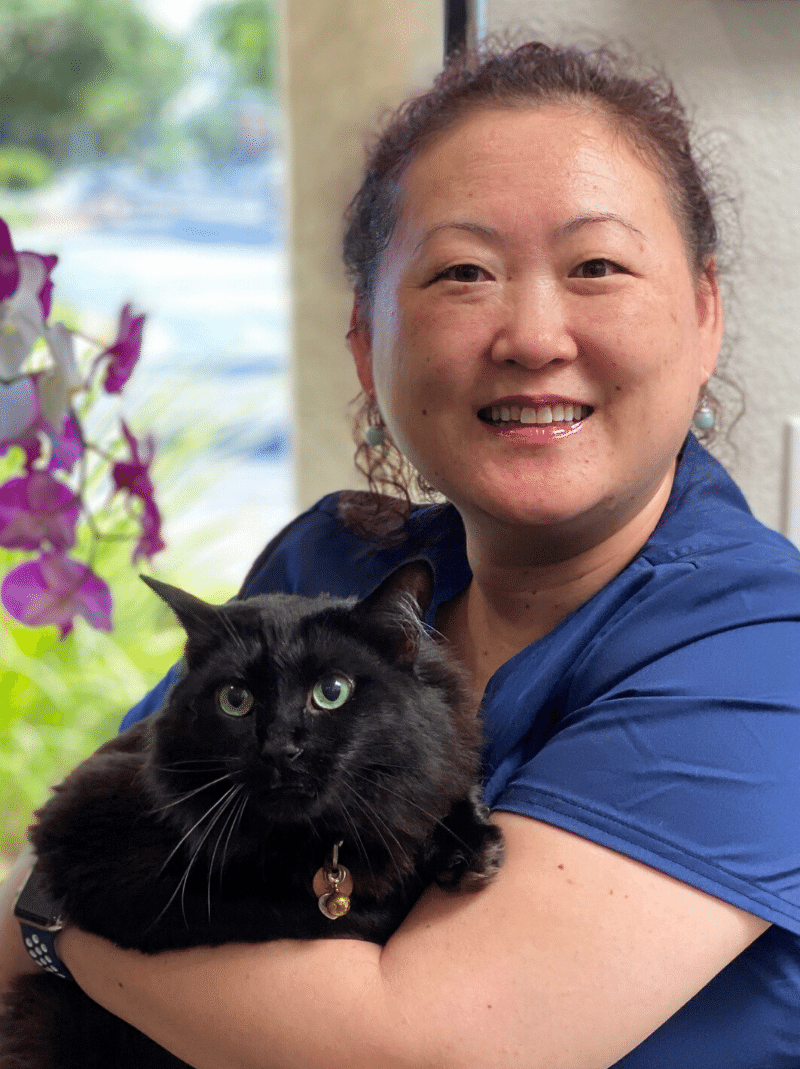 Quinn Petras-Yang
Lead Veterinary Technician, RVT
Quinn has always loved animals and can remember wanting to care for them since she was 9 years old. To this day, that desire has not changed. In 1999 she began her career in the animal health industry as a receptionist and gradually moved on to become a technician. She attended Oregon State University wherein 2001 she received a Bachelor of Science Degree in Animal Behavior. Later in 2009 she became licensed as a Registered Veterinary Technician. While not tending to your pets she enjoys spending time with her two cats, both of which are rescues. Her original feral is a 7-year-old domestic longhair named Micah (pictured above) and her original stray is Shinta, a 15-year-old domestic shorthair brown tabby who elected to opt-out of the photo session!
Julie Short
Veterinary Technician, RVT
Julie grew up in Pleasanton and has always lived local, currently residing in Livermore. She graduated from the Carrington College Veterinary program in 2013. She has worked in the field ever since, becoming well-rounded at a busy urgent care veterinary clinic. She has always loved animals of all shapes and sizes, with a particular soft spot for cats and geriatric pets. Wanting to build a deeper connection with clients and their furry family members, Julie decided to start here at Paws of Pleasanton and is feeling right at home.
Her hobbies include DIY crafting anything and everything, gardening, cooking, and drinking wine. When not at work, you are most likely to find her camping or hiking with her husband and two children (Nightly 11yrs old and Breahna 15yrs old). She currently has one fur baby named Moo (in picture shown), but has always dreamed of having a golden retriever puppy….. one day 🙂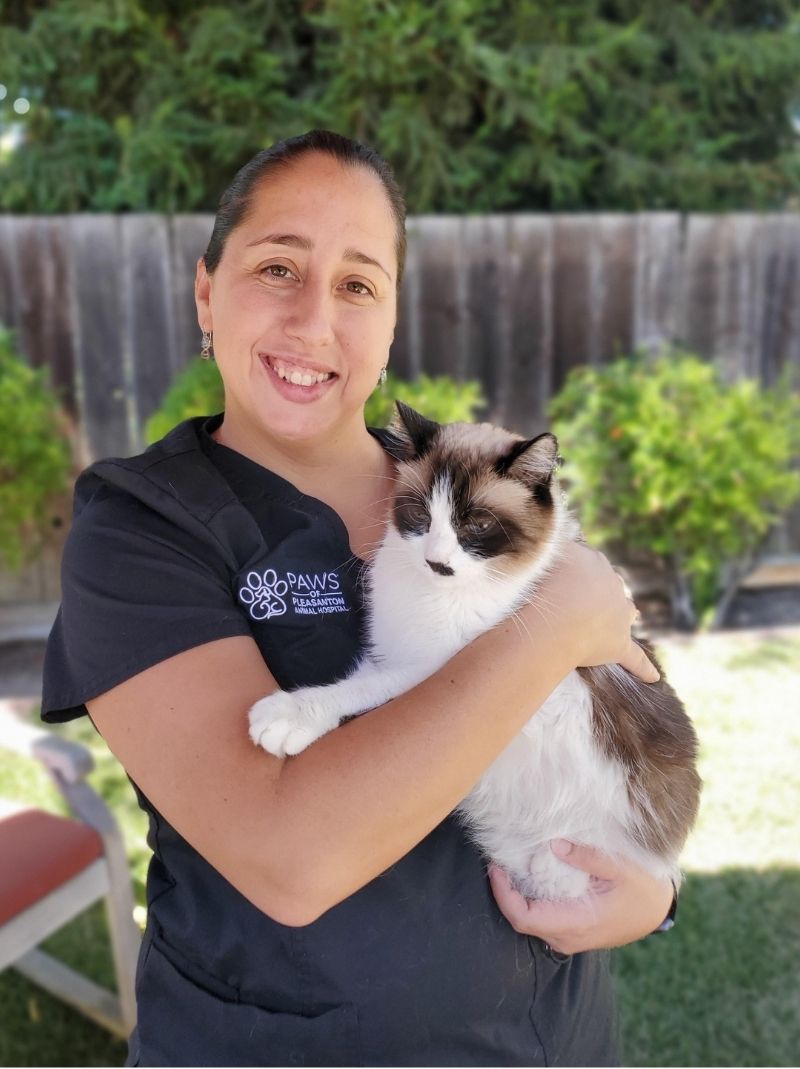 Nina Ortins
Veterinary Technician, RVT
Nina is a Registered Veterinary Technician, graduating from Western Career College in 2005. She currently has three cats: Ava, Nala, and Simba, who keep her entertained. She enjoys spending time with her husband and 4-year-old-daughter hiking and traveling around the world when she can.
Gillian Silva
Veterinary Technician
Gillian, born in Pleasanton, has lived in Tracy her entire life. She is a 2018 graduate from Veterinary Technician School at Carrington College. After completing her degree, she started to pursue a business degree at Delta College in Mountain House. When it didn't seem to be the right fit, she decided to utilize her veterinary technician degree and entered the workforce as an emergency technician. Loving animals has always been one of her biggest passions. After working in emergency medicine for 3 years she decided to join us at Paws of Pleasanton Animal Hospital!
When not working, Gillian is a big Disney fan, and LOVES going to Disneyland! Additionally, she enjoys spending time with her friends/family, doing makeup, getting tattoos, and caring for her two feline fur babies. Moana is a sassy Tuxedo and Montana (pictured) is a chaotic, but a very sweet Grey Tabby.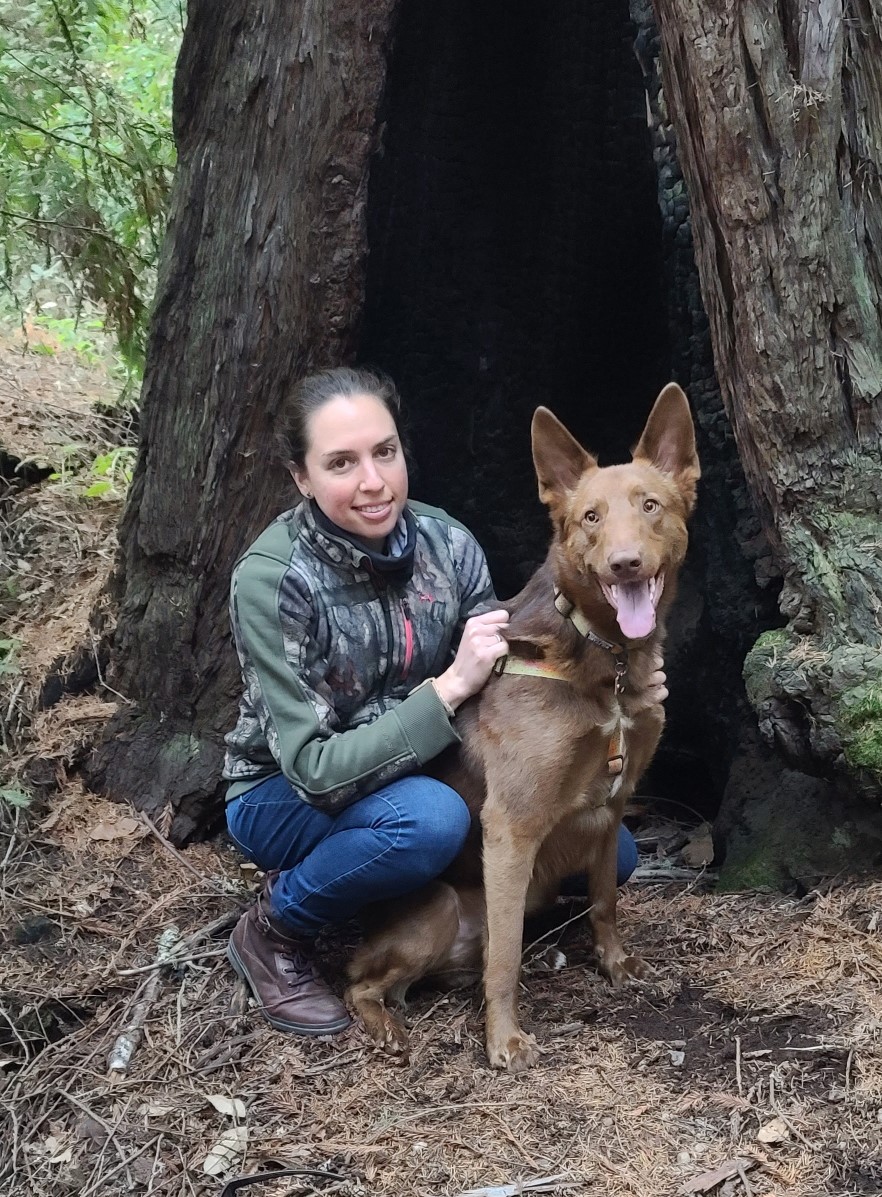 Alina Angenete
Veterinary Assistant
Alina was born and raised in the California bay area. She worked with animals for 10+ years and made the switch over to the Veterinary field in 2017. Currently, she is a Veterinary Assistant with an interest in furthering her knowledge and becoming an RVT. When she isn't working, you can find her somewhere outdoors, hiking, kayaking, playing Frisbee golf, spending time with her pets (cats and dogs), or hanging out with her family. She is very passionate about making patients comfortable and happy. Although Alina loves all species and breeds, German Shepherds and bearded dragons hold a special place in her heart.
Hailey Duckworth
Veterinary Assistant
Hailey is a small-town girl from Sonora, California, and a veterinary technician assistant with the goal of becoming an R.V.T. Throughout high school, Hailey was heavily involved in 4H and FFA which initially fueled her passion and interest in animal medicine. She has been in the field since 2017 assisting with a plethora of both large and small animals.
Her first position as a kennel technician with Mono Way Veterinary Hospital exposed her to many different aspects of the veterinary field and gave her opportunities to engage in different positions. Prior to moving to Pleasanton in September of 2019, Hailey also worked for Tuolumne County Animal Control where she learned the legal aspect of the veterinary field via shadowing many on-call animal control officers. If she wasn't shadowing, she was at the shelter assisting with adoptions, cleaning, making the animals comfortable, and creating bonds with each pet she worked with.
Hailey is very passionate about patient care and loves all pets regardless of size or temperament. In her downtime, she loves to spend time with family, visit Sonora, and literally anything that gets her up and moving.
Shaun Ollerdessen
Veterinary Assistant
Shaun Ollerdessen was born and raised in the Bay Area. He currently resides in Concord, CA, and has worked in the veterinary field for over 10 years. Always known to be passionate about working with animals, he likes to ensure they have a good experience when in the hospital. Some of his hobbies include walking, video games, and he loves to cook. A culinary career would have been an option if he didn't have such a strong love for veterinary medicine. His goal is to one day obtain his registered veterinary technician license and expand upon his technical skillset. He has developed many great relationships over the years in the field of veterinary medicine for which he will always be grateful.
Ella Dummer
Veterinary Assistant
Ella is a Junior at CAL high school in San Ramon where she enjoys and excels in science and math. She hopes to one day attend medication school and has an interest in pathology. She has been frequenting veterinary hospitals since in utero as Kari; her mother, is a veterinary technician. Throughout her years growing up, she has helped her mom rescue and nurse animals back to health. When not studying or hanging out with friends, she enjoys playing softball, volleyball, and spending time with her 3 dogs and 2 cats. Butters, pictured above, is her favorite!
Family-owned and operated veterinary care in Pleasanton, CA
Compassionate care for your four-legged family members.
At Paws of Pleasanton Animal Hospital, we know your pets are family. We strive to treat each and every patient who walks through our doors with kindness and respect. We offer cutting-edge medical technology to keep your pets feeling their best! We're also a proud member of the Pleasanton Chamber of Commerce.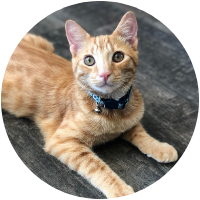 Location
3128 Santa Rita Road, Suite B
Pleasanton, CA 94566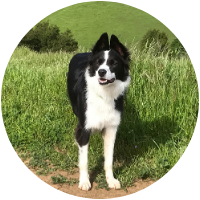 Hours
Mon - Fri: 7:30 am - 6:00 pm
Sat - Sun: Closed
Have a question?
Complete the form below and we'll be in touch with you shortly.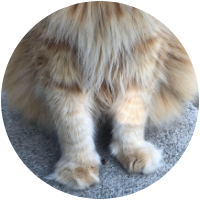 Request your next appointment online!
New clients, please click here to fill out your paperwork prior to requesting an appointment. To request your appointment, click the button below.
At this time, we offer the option for either curbside or in-hospital visits with your pets as long as you are wearing a mask, have not tested positive, or recently been around others who have tested positive or are feeling sick.
Your appointment time is reserved especially for you and your pet. Please try to arrive on time. If you choose to cancel with less than 12 hours notice or if you miss your appointment, we reserve the right to charge you an examination fee.
We appreciate your understanding and thank you for helping us ensure other sick pets can be seen when you're unable to make your appointment.